PADI Navigation Specialty
PADI Navigation Specialty course: Everyone has been on a dive where they are looking around seeing all the wonderful marine life but really don't have a clue where they are going? Be the scuba diver everyone wants to follow because you know where you are and where you're going. The PADI Underwater Navigator course fine-tunes your compass skills and teaches you to use underwater contours and other natural navigation. If you like challenges with big rewards, take this course and have fun finding your way.
Description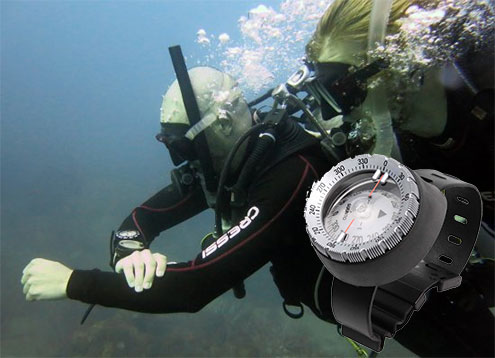 Our PADI Navigation course takes 2 days to complete: the first day we fine tune your compass and natural navigation skills.
Day 2 we set out an underwater course with certain underwater headings for the you to follow and then choose the reciprocal headings for the way back which mimics and back to the boat dive.
The final dive of the course we let you lead the dive Instructor on an out back to to the boat dive which is one of the hardest dives to navigate if you want to be accurate and get back to the boat anchor line.
These are the skills you will complete on the course
Methods to estimate distance underwater.

Compass navigation while making at least five turns.

Marking or relocating a submerged object or position from the surface.

Underwater map making.

Out and back to boat leading a dive.
Academic
The PADI Navigation specialty course comes with PADI elearning so you can self study the knowledge side of the course, there are 2 knowledge reviews to be completed. Once the knowledge has been completed the in-water training duration is 2 days (4 dives)
If you're a PADI (Junior) Open Water Diver who is at least 10 years old, you can enroll in the PADI Underwater Navigator Specialty course.
Equipment
All you need for this course is a basic full set of equipment which we provide the rental equipment plus dive computer and compass, all this is included in the price of the course.
Getting Started
Prices
Price of the PADI Navigation specialty course 9,5000B 2 days (4 training dives)
Includes Speedboat trip, Pro Instruction, rental equipment, 2 dives, Specialty e-manuals/certification, lunch/snacks/drinks, No hidden costs.
To Book
EMAIL:realdiverspattayathailand@gmail.com
PHONE: Dive Shop – 038-232-476
Neil – 087-602-1411                
Kat – 093-594-9191
Contact details plus map to the dive center
Ever thought which course you need to do to become a PADI Pro